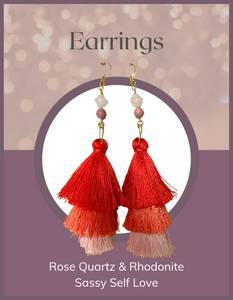 Jewelry - Earrings - Rose Quartz & Rhodenite Tiered Tassel
Pretty in Pink Rose Quartz and Rhodenite Tassel Earrings

These "Pretty in Pink" rose Quartz & rhodenite tiered tassel earrings are the perfect accessory to make a statement! A stunning combination of pink rose quartz and rhodenite stones, plus 3 tiered tassel, will make you look and feel glamorous! Be prepared to stand out in style and sparkle!
Gold plated brass ear hooks.

Rose quartz supports self love and compassion while Rhodenite offersw

Due to the unique nature of stones, each piece will vary slightly.
Hand made in Ohio.  Female imagined, designed, created, and owned small business.