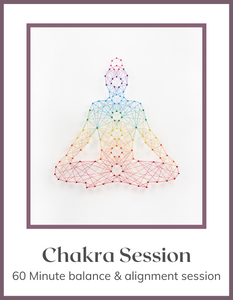 Services - Chakra Session
60 minute session with Lia
This is a 60 minute chakra balancing & alignment session via video or voice call.
A typical session may include coaching, guided meditation, sacred sound, energy work (such as Reiki), and/or messages and instruction from your guides.
Please be sure to click the "schedule appointment" button before proceeding to checkout to confirm appointment time.*
To reschedule, please call 419.354.8408 at least 24 hours before appointment.
*Your appointment is not confirmed in the master calendar until payment is complete.  Any appointment time in your cart can be cancelled by the system if payment is not completed within 1 hour.  Once payment is complete, there are no refunds.