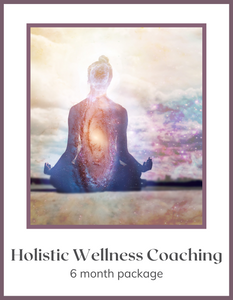 Services - Holistic Wellness Coaching
Curate your life!  Develop skills!  Create peace!  Strengthen connections!

Let go of thought and behavior patterns that no longer serve you.  Discover what cultivates flow, serenity, joy, and abundance in your life.  Learn to be "me" centered with healthy and compassionate boundaries.  The possibilities are infinite.
Reiki, hypnotherapy, intuitive messages, guided imagery, meditation, sound vibration, life coaching, holistic wellness modalities (and more) may be used dependent upon client needs and comfort.
This is a 6 month package with daily practice check-ins sent directly to your phone and weekly one-on-one live video sessions curated for your personal goals. 
You have direct daily access to your very own holistic wellness coach for less than $250 per week!

Only 5 seats are available at any given time to ensure YOU are always given priority status.
Please be sure to click the "schedule appointment" button before proceeding to checkout to confirm your first one-on-one appointment time.*
To reschedule, please call 419.354.8408 at least 24 hours before appointment.
*Your appointment is not confirmed in the master calendar until payment is complete.  Any appointment time in your cart can be cancelled by the system if payment is not completed within 1 hour.  Once payment is complete, there are no refunds.