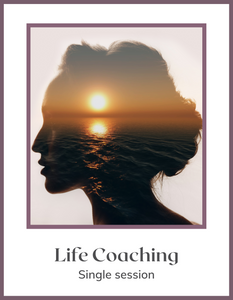 Services - Life Coaching
60 minute session with Lia
This is a 60 minute life coaching session via video or voice call.
Are you inspired to be your very best self, yet feel a bit stuck or unsure how to take the nest step?
I get it.  Sometimes it is difficult to see our own path clearly.  It can be tough to imagine a new future while you are maintaining your current responsibilities.
I can help!  I can be your eyes from the outside, helping you to see the bigger picture.
A typical session will include coaching, as well as other wellness modalities (such as guided meditation, sacred sound, energy work, and/or messages and instruction from your guides), dependent upon client needs and comfort.
This single session is perfect as a "check in" or "tune up".  You can also choose to stack weekly sessions to address a specific challenge or develop particular skill sets.

Please be sure to click the "schedule appointment" button before proceeding to checkout to confirm your appointment time.*
To reschedule, please call 419.354.8408 at least 24 hours before appointment.
*Your appointment is not confirmed in the master calendar until payment is complete.  Any appointment time in your cart can be cancelled by the system if payment is not completed within 1 hour.  Once payment is complete, there are no refunds.