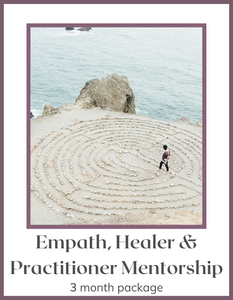 Services - Mentorship
Empath, Healer, & Practitioner Mentorship
Personalized to support your specific needs, goals, & skill sets!

Create the life you dream of living.

* Release outdated cognitive and behavioral habits.
* Identify what generates a sense of flow, tranquility, delight, and abundance.
* Forge your own "me-focused" existence, with boundaries that are tender and health-focused.
* Understand how to make decisions that prioritize yourself in a healthy and compassionate manner.
* All the conceivable doors are yours to open.  The potential is boundless.

Reiki, hypnotherapy, intuitive messages, guided imagery, meditation, sound vibration, life coaching, holistic wellness modalities (and more) may be used dependent upon client needs and comfort.
This is a 3 month package with weekly one-on-one live video sessions curated for your personal goals. You may also request up to 7 additional personalized sessions, including classes on specific topics (such as Reiki, herbal health, intuition development, business start up, web design, etc.) as needed to achieve your desired outcomes.

You have direct scheduled access to a successful holistic health entrepreneur & business woman with over 20 years management experience in non-profit and for profit development.

Only 5 seats are available at any given time to ensure YOU are always given priority status.
Please be sure to click the "schedule appointment" button before proceeding to checkout to confirm your first one-on-one appointment time.*
To reschedule, please call 419.354.8408 at least 24 hours before appointment.
*Your appointment is not confirmed in the master calendar until payment is complete.  Any appointment time in your cart can be cancelled by the system if payment is not completed within 1 hour.  Once payment is complete, there are no refunds.